Today I'm happy to welcome Christine Fonseca for a Blog Ring of Power interview about the technical aspects of her work as a YA and nonfiction author. Don't miss the rest of the interview:
About Christine Fonseca
School psychologist by day, critically acclaimed YA and nonfiction author by night, Christine Fonseca believes that writing is a great way to explore humanity. Her debut YA Gothic series, The Requiem Series, including DIES IRAE and LACRIMOSA, examines the role of redemption, sacrifice and love. Her nonfiction titles include 101 SUCCESS SECRETS FOR GIFTED KIDS and EMOTIONAL INTENSITY IN GIFTED STUDENTS.
When she's not writing or spending time with her family, she can be sipping too many skinny vanilla lattes at her favorite coffee house or playing around on Facebook and Twitter. Catch her daily thoughts about writing and life on her blog.
For more information about Christine Fonseca or the series, visit her website – http://christinefonseca.com or her blog http://christinefonseca.blogspot.com.
Part 3: The Technical Aspects
What type of research do you do? I am a bit of a research junkie, both in my day job and with regards to writing. Most of the writing-related research I do has to do with setting elements. But I will also research mythology related to my stories, genre, and anything else I think is important to the project.
What are the most important elements of good writing? Those who know me know that my first answer to this question will always be authenticity. Without in, nothing else matters! After that, I think strong characters and a well developed plot is everything. The rest—word usage, setting, etc—can be fleshed out through the editing process.
What tools are must-haves for writers? I couldn't write without my laptop (or iPad), internet access (for research), 3×5 cards (for editing later on), my favorite drink, appropriate music, and plenty of time. Everything else is a bonus.
Do you have any advice for other writers? Writing is a process. Always remember that, especially when you are feeling impatient. Also, when in doubt – write. There will be times when you don't want to; times when the "noise" of the industry gets too loud. During these times, write. Period.
What are your current / future project(s)? Well, I actually have a ton going on. First off, the sequels to LACRIMOSA, including some super sekrit things I can't quite talk about yet. After that, I have another sekrit psychological thriller I should be able to talk about soon and a nonfiction book for girls due early next year. After that, I have a YA series and a few thrillers in the works. Never a dull moment!
Where can your readers stalk you?
Blog:  http://christinefonseca.blogspot.com
Facebook page:  https://www.facebook.com/pages/Christine-Fonseca-Author/226271671435
Goodreads author page: http://www.goodreads.com/christine_fonseca
Twitter: http://twitter.com/chrstinef
Amazon: http://www.amazon.com/Christine-Fonseca/e/B003WJ6EIS
Is your book in print, ebook or both? LACRIMOSA is available in all formats.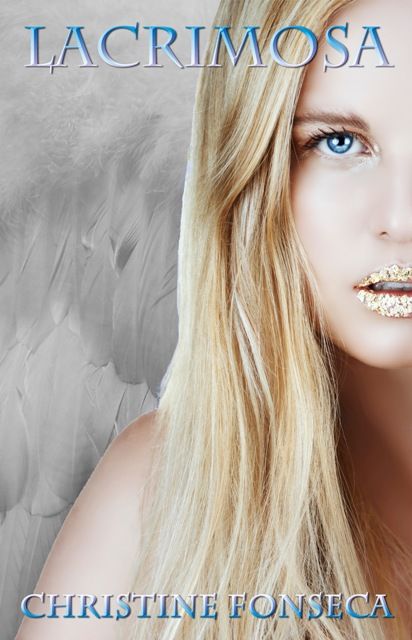 As if casting out demons isn't hard enough, five-hundred-year-old Nesy has to masquerade as a teenage girl to do it. Nesy is the best of the warrior angels called Sentinals. She never makes mistakes, never hesitates, never gets emotionally involved. Until she meets Aydan.
He is evil incarnate; a fallen angel that feeds off the souls of others. Everything Nesy is supposed to hate.  But she can't, because he's also the love of her former life as a human girl—a life that ended too soon, tying her to emotions she was never supposed to feel.
Now Nesy must choose between doing her duty—damning Aydan to the fiery depths of hell—or saving him, and condemning herself.
"LACRIMOSA reaches out, grabs readers by the heart, and takes them on an emotional journey from the first page to the last. The last novel you'll need to read to understand true sacrifice."
~Elana Johnson, Author of POSSESSION
Publisher: COMPASS PRESS
ISBN: 0984786368 (ISBN 13: 9780984786367)
Hardback and Digital formats from Amazon, Barnes and Noble and fine retailers.
Hardcopy buy link, Amazon – http://www.amazon.com/Lacrimosa-Christine-Fonseca/dp/0984786368/ref=tmm_hrd_title_0
Hardcopy buy link, Barnes and Noble – http://www.barnesandnoble.com/w/lacrimosa-christine-fonseca/1109329729?ean=9780984786367
Kindle buy link– http://www.amazon.com/Lacrimosa-Requiem-Series-ebook/dp/B007HEVTS4
Nook buy link –  http://www.barnesandnoble.com/w/lacrimosa-christine-fonseca/1109329729?ean=2940013923256
Additional Titles in the series include DIES IRAE (a Requiem Novella), LIBERA ME (Oct 2012) and REQUIEM (March 2013).
The book trailer can be seen by linking to YouTube – http://www.youtube.com/watch?v=AwTQoOFKEZg